One of the things that stands out about a person in the workplace led by God, for whom God is king, is that they carry His kingdom into the places where they work. And we know, as Jesus said, that the kingdom of God is like yeast in dough (Luke 13:21). It has an effect on the environment in which it is placed, working all through it.
The thing about a yeast in dough is that it doesn't simply co-exist in a foreign environment. It actually changes the dough through a chemical reaction.
So if in and through our work or business, we are carriers of the kingdom of God, then we can expect God to use us as agents of change in the environment where we operate.
Now, what will be the evidence that we are making a difference in the world around us? Here's one major way: the elimination of systems of poverty.
Jesus said that he was anointed to bring good news to the poor: "The Spirit of the Lord is upon me, for he has anointed me to bring good news to the poor" (Luke 4:18).
I believe that the good news of the kingdom of God for the poor is not merely that their needs are met while they continue to live in an environment of systemic poverty; that the church provides for the needs of the poor – although this is certainly important.
The really good news is when we touch the systems around us that keep people in poverty, to bring about change; and to break generational cycles of poverty. That is what the kingdom of God tastes like!
This is the kind of impact that is being made through the work of Kings Reach, an alternative education provider, family and community support centre that hosted one of our meetings for Christians in business last year. Kings Reach is working with young people and families in vulnerable situations to bring them hope, vision and skills through education and counselling. Here we see a kingdom enterprise that is truly yeast in the community, in local government, education and families. Here, people's lives are changed by the kingdom of God at work.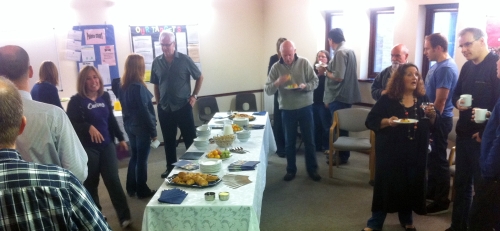 "Business for Christ" meeting at Kings Reach in Maidstone